Robert Butler, MD, FACS, FAAOA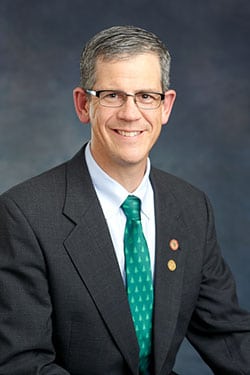 Board certified by the American Board of Otolaryngology/Head and Neck Surgery, Dr. Robert Butler follows ethical standards as a fellow of the American College of Surgeons (FACS) and has a strong background in allergy as a fellow of the American Academy of Otolaryngic Allergy (FAAOA).
Overall, Dr. Butler has a conservative approach to medicine and treats both pediatric and adult patients. He emphasizes patient education and involves his patients in medical decision-making.
As an ENT surgeon who has completed allergy certification, Dr. Butler has a unique perspective on the treatment and care of chronic sinusitis. He has a special interest in allergic fungal sinusitis and nasal polyposis, and he offers sinus and septum surgery without painful nasal packing, as well as minimally invasive balloon sinuplasty, which has made a tremendous impact in controlling infections, barotrauma, and recurrent sinus headaches. Dr. Butler also uses low temperature technology for tonsillectomy, which results in less pain following this common procedure.
In addition, Dr. Butler offers a full allergy evaluation, including allergy shots and sublingual drops, as well as multiple types of advanced diagnostics, including precise needle biopsies and in-office ultrasound for the accurate evaluation of neck, thyroid, and parotid masses, which is another one of his special interests.
Dr. Butler grew up in Austin where he obtained an engineering degree with honors from the University of Texas. After finishing medical school at the University of Texas Medical Branch in Galveston, he completed his training in otolaryngology-head and neck surgery at Georgetown University in Washington, DC.
Away from the office Dr. Butler enjoys music and outdoor activities with his wife and two sons. He is actively involved in a local Boy Scout troop where he is the high adventure coordinator.
Dr. Butler sees patients in South Austin, SW Austin, and Bastrop, along with his physician assistant, Michelle Grimes, PA-C, and our audiologists, who can assist you with a hearing evaluation, customized musician ear plugs, and digital hearing aids.
Office Locations
Board Certification
Otolaryngology/Head & Neck Surgery
American Board of Otolaryngology
Medical Education
Medical School: University of Texas Medical Branch, Galveston, 1992
Residency: Otolaryngology/Head and Neck Surgery, Georgetown University, Washington, DC
Patient Reviews