Mark Dammert, MD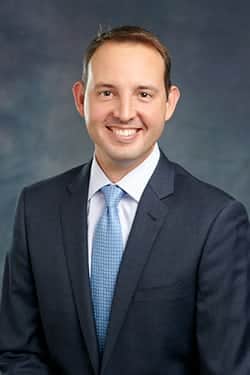 Dr. Mark Dammert is originally from Dallas and feels very fortunate to call Central Texas home. After graduating from the University of Texas at Austin, he received his medical degree from the University of Texas Health Science Center at San Antonio. He finished his specialty training in Otolaryngology-Head and Neck Surgery at Louisiana State University (LSU) and subsequently completed a prestigious fellowship in facial plastic surgery at LSU. Dr. Dammert is the immediate past Chief of Surgery at Seton Medical Center, Hays County.
A board-certified otolaryngologist (ENT specialist), Dr. Dammert has a conservative approach to medicine and feels very strongly about working together with his patients to individualize their care. He enjoys treating all aspects of ENT conditions in both children and adults. His interests include allergy and sinus problems, minimally invasive sinus surgery, balloon sinuplasty, throat and tonsil conditions, ear disorders including hearing and balance problems, sleep apnea and snoring, and surgical treatment of thyroid/parathyroid disorders and head and neck cancer.
With fellowship training in facial plastic surgery, Dr. Dammert also performs reconstructive surgery due to trauma, skin cancer, and congenital and acquired defects.
Dr. Dammert sees patients in SW Austin and Kyle. Away from the office, he loves spending quality time with his wife and twin children. He is an avid surfer, is fluent in Spanish, and loves traveling, cooking, scuba diving, and outdoor sports. Dr. Dammert was selected as a Super Doctors Rising Stars honoree in 2019 & 2020!
Office Locations
Board Certification
Otolaryngology/Head & Neck Surgery
American Board of Otolaryngology
Medical Education
Medical School: University of Texas Health Science Center at San Antonio
Residency: Otolaryngology/Head and Neck Surgery, Louisiana State University
Fellowship: Facial Plastic Surgery, Louisiana State University
Patient Revies